Top 3 Essential Oils to Help Beat the Blues
A Heart-to-Heart about Essential Oils and Depression
Feeling blue isn't just a saying; depression touches the lives of so many.
If you're like me and are always on the lookout for a way to look after my family naturally, then look no further than these three top blues busting essential oils:
Lavender,

Roman Chamomile (3% in Jojoba),

Bergamot
Hi my name is Leonie Gully and I'm Moon Haven's founder and aromatherapist and these oils are my favourite for helping to beat the blues.
Not only are these oils my favourite but scientific studies have concluded that they are super effective for helping to soothe a troubled mind.
Note: I've listed the references for each essential oil property listed at the end of this article if you want to dive deeper into why they are so effective.
So here we go ...
1. Lavender Oil - Lavandula angustifolia
Oh, Lavender! It's like a gentle hug for the soul.
Soothes the Nerves: Ever felt anxious? Lavender whispers "it's going to be okay," helping to lower those anxiety vibes.

Dreamy Sleep: For those nights when sleep plays hard to get, Lavender steps in, making our bedtime more peaceful.

Steady Mood: It's like a balancing act for our emotions, keeping those mood roller coasters in check.
Suggested Use: Just add few drops in a diffuser or added diluted in a carrier oil like sweet almond or fractionated coconut oil ) to a warm bath can help alleviate stress and promote a peaceful environment. Its gentle aroma is perfect for unwinding after a long day.
2. Bergamot Oil - Citrus bergamia
Fresh from the zesty rind of the Bergamot fruit, this oil is a burst of happiness:
Wave Goodbye to Stress: Think of it as a mini stress-relief spa in a bottle, helping to melt away those cortisol blues.

Boosting the Spirits: When you're feeling a little down, Bergamot's here to bring back that pep in your step.

Harmony in the Brain: It's like a little nudge, encouraging our brain to release those feel-good neurotransmitters.
Suggested Use: Bergamot is best diffused into a living space or bedroom or soak in a bath where you've added 5 to 10 drops Bergamot Essential Oil mixed into 1 cup of epsom salts and dissolved. So wonderfully soothing and relaxing.
3. Roman Chamomile Oil (3% in Jojoba) - Anthemis nobilis
Like a comforting cup of chamomile tea, but for your senses:
Peace and Calm: It's like a serene melody that helps to quiet those jitters and nerves.

Lifting the Clouds: Some say it's like having a pocket-sized cheerleader to combat those gloomy feelings.

Sleepytime Friend: For those restless nights, Roman Chamomile's gentle lullaby can help guide you to dreamland.
Suggested Use: By diffusing this oil or applying it topically diluted in carrier oil - (Sweet Almond, Fractionated Coconut Oil work well), you can create a sense of calm and promote a more restful sleep.
Wrapping up, nature has gifted us these wonderful oils that could be little companions for our emotional well-being. But remember, always have a chat with a healthcare expert if you're thinking of inviting them into your wellness journey. Stay radiant and take care!
With much love & encouragement
Laura & Leonie of moon haven💚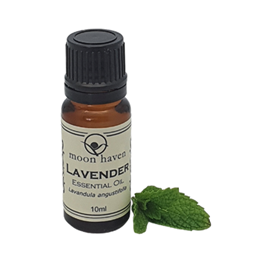 The "go-to" oil in your aromatherapy kit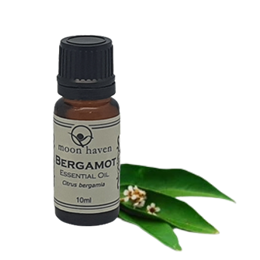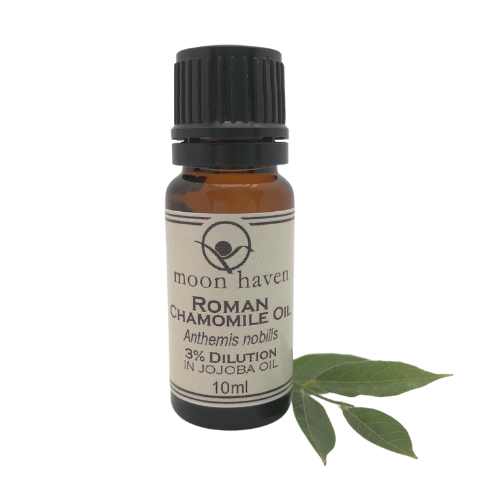 Rest & relaxation in a bottle
This article was written by Moon Haven's aromatherapist and founder Leonie Gully and as such represents her personal opinion on the given subject.
Subscribe to the Moon Haven Newsletter where each month Leonie and the Moon Haven Team share articles just like this one plus fill you in on all the happenings at the Moon Haven Cottage.
Subscribe to the Moon Haven  newsletter at moonhaven.com.au
Leonie loves to receive your emails, questions and requests for information .  Just email her at info@moonhaven.com.au
Leonie Gully- Moon Haven's Aromatherapist
While any advice provided is general in nature, it is not intended to replace medical diagnosis or treatment.  If you are at all concerned about your condition, it is important that you do consult your medical practitioner of choice for an individual consultation and treatment plan.
CHECK OUT OUR MOST POPULAR CONTENT
Always seek qualified medical advice regarding your own individual situation
Please note: Information in this article and on the moonhaven.com.au website represents the opinion of the author and as such is not intended to be a substitute for professional medical advice and should not be relied on as health or personal advice.
Always seek the guidance of your doctor or other qualified health professional with any questions you may have regarding your health or a medical condition.