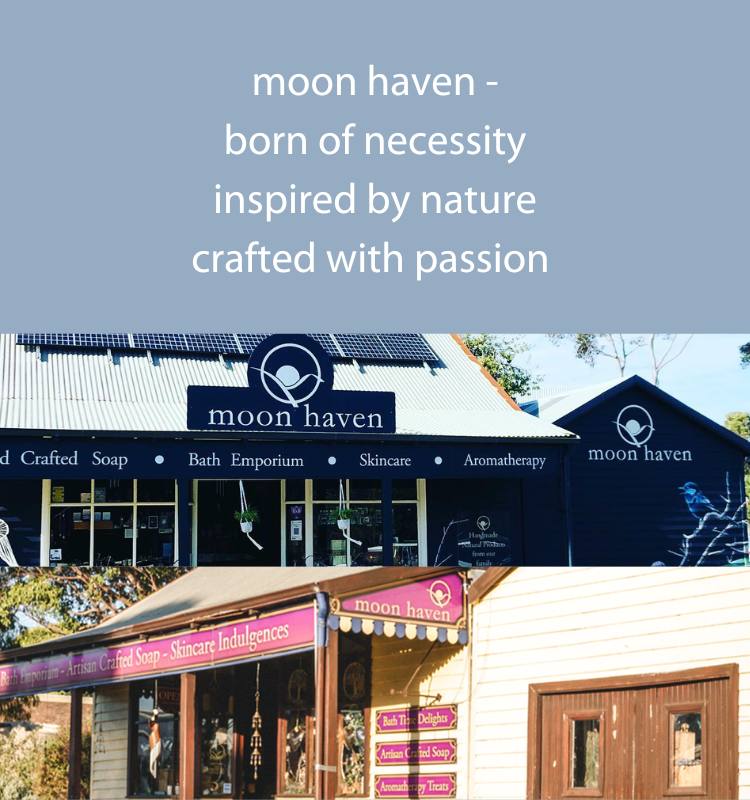 Moon Haven Cowaramup
What is Moon Haven?
Moon Haven is a continually evolving sanctuary where a myriad of magical aromatherapy and herbal products are developed and produced just right for today's world.
Eric and Leonie Gully along with their dedicated team, make an amazing range of aromatherapy soaps, soothing salves and herbal skin care products that make for a more natural approach to the way we live in the world.
If you would like to find out more about Moon Haven, our philosophy and why we do what we do… click here
Why is Moon Haven?
In 1998, after many years of being unable to pinpoint the source of her debilitating muscle pain and tiredness, Leonie was finally diagnosed with Fibromyalgia Syndrome (FMS). This led her and husband Eric down a path of exploring the best that western medicine and complimentary therapies could offer to bring about relief.
Leonie grew up surrounded by herbs and an avid interest in the formulation of skin care. Her childhood chemistry set and laboratory in the laundry, are part of family lore.
Frustrated at finding little relief for her pain, Leonie started researching all things herbal and aromatherapy, discussing the issues with other herbalists and therapists and set about making a salve that worked for her. Achy Breaky Rub was born and the rest is history.
Moisturising lotions that didn't bring Leonie out in a rash, salves for the constant itch that plagued her hands and soaps that would deliver the benefits of the aromatherapy world to her on a daily basis followed.
Family and friends got in on the secret and soon the kitchen was turned into a laboratory – little food could be found there, but you could bet your life you could always find a jar of herbs infusing on the bench or a pot of the latest 'research project' on the stove. Ideas were turned into reality, more and more products were formulated and tested on the same willing band of people.
Eric, a consulting engineer and project manager, looked into the technical side of things and explored better ways of doing things. He brought both his engineering and manual craft skills to the fore and developed molds and designed methods and techniques to make things easier. Having previously been a small business owner himself, he also began developing a detailed business plan for Moon Haven.
The word spread… and so Moon Haven was born.
Who is Moon Haven?
Eric and Leonie Gully established Moon Haven Natural Products in August 2001. The first Moon Haven shop front and workroom opened Christmas 2002 in Cowaramup. Where is Moon Haven? Corner Bottrill Street & Bussell Hwy, Cowaramup, Western Australia, in the heart of the Margaret River Wine Region.
Warmest regards,
Leonie - moonhaven's aromatherapist, founder & creator of good things
CHECK OUT OUR MOST POPULAR CONTENT

Do you have a question? ... Want to know more?
Just click the "Chat with us" button in the right hand corner of this page to ask a question or get more information
- if we're logged in you may even get an answer straight away...otherwise we'll get back to you as soon as we are back online..
Always seek qualified medical advice regarding your own individual situation
Please note: Information in this article and on the moonhaven.com.au website represents the opinion of the author and as such is not intended to be a substitute for professional medical advice and should not be relied on as health or personal advice.
Always seek the guidance of your doctor or other qualified health professional with any questions you may have regarding your health or a medical condition.