Essential Oil Dilutions -
How to Use Essential Oils Safely on Your Skin
Using essential oils on your skin effectively and safely isn't difficult but it can be a little confusing.
So we've put together this handy guide to using essential oils on your body.
Never use undiluted essential oil on your skin
First things first - ALWAYS dilute essential oils when applying them to your skin or scalp. 
Undiluted essential oil on the skin can potentially cause sensitisation and severe skin reactions in susceptible people.
I have known of clients who have splashed lavender essential oil around like it was a cologne only to find that at some point in time their skin starts to react, becoming sensitized or developing eczema like rashes.
I have a personal theory that we all have a lifetime limit or threshold for different substances in our lives.  Once that limit has been reached then sensitisation occurs on every subsequent exposure.
Download Your Essential Oil Dilution Guide
For this reason I prefer to err on the side of caution and recommend that essential oils are diluted when applied to the skin.
We have written a simple essential oil dilution guide for skin applications.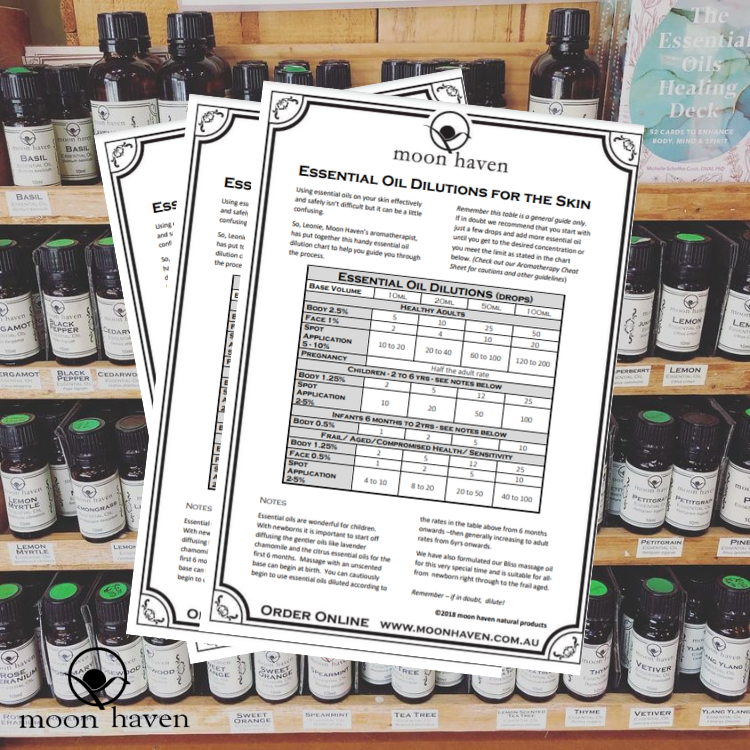 Warmest regards,
Leonie - moonhaven's aromatherapist, founder & creator of good things
CHECK OUT OUR MOST POPULAR CONTENT
Always seek qualified medical advice regarding your own individual situation
Please note: Information in this article and on the moonhaven.com.au website represents the opinion of the author and as such is not intended to be a substitute for professional medical advice and should not be relied on as health or personal advice.
Always seek the guidance of your doctor or other qualified health professional with any questions you may have regarding your health or a medical condition.