MIY: Make It Yourself -Perfume Oil
Make Your Unique Signature Scent Perfume Oil
Are you ready to unleash your inner perfumer and create a scent that's uniquely yours?
Making your own perfume oil is a fun and rewarding DIY project that lets you experiment with different combinations of essential oils to create a fragrance that perfectly captures your style and personality.
Plus, it's a great way to avoid harsh chemicals found in commercial fragrances and save money in the process.
So, let's dive in and create a signature scent that's all your own!
But First ... Let's Talk About Perfume Notes
Choosing the essential oils to use isn't just about personal preference.  The most successful perfumes have a range of scent impressions that evolve over time.  These are called the scent notes of the perfume.
For this reason,  notes play a crucial role in creating a well-balanced and memorable scent. 
Here's a breakdown of their roles:
Top notes: These are the divas of the perfume world - they're the first to make an entrance and demand attention with their fresh and zesty aromas.

Middle notes: These are the backbone of the perfume, the reliable and steady performers who provide a full body and complexity to the scent.

Base notes: These are the unsung heroes of the perfume world, providing the foundation and long-lasting scent that lingers on the skin.
Together, these scent notes work in harmony to create a symphony of scent that's unique and memorable.
The Formulas
Now that you have the basics, let's roll up our sleeves, channel our inner mad scientists, and get creative with scent!
To help you along the way, here are two formulas to get you started and inspire you to tweak and experiment until you find your perfect scent.
Citrus Flowers Perfume Oil
An ideal perfume oil to wear everyday.  Its light floral and citrus notes will uplift and inspire you throughout the day.
8 drops sweet orange essential oil (Middle note)

6 drops ylang-ylang essential oil (Middle note)

4 drops  3% jasmine in jojoba oil (Middle note)

2 drops lemongrass essential oil (Top note)

2 drops patchouli essential oil (Base note)

10 ml fractionated coconut oil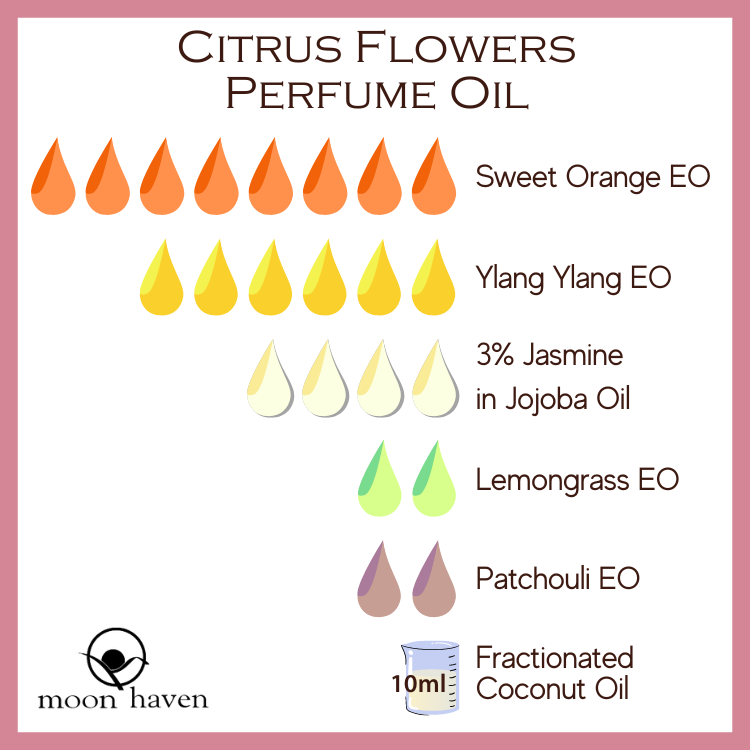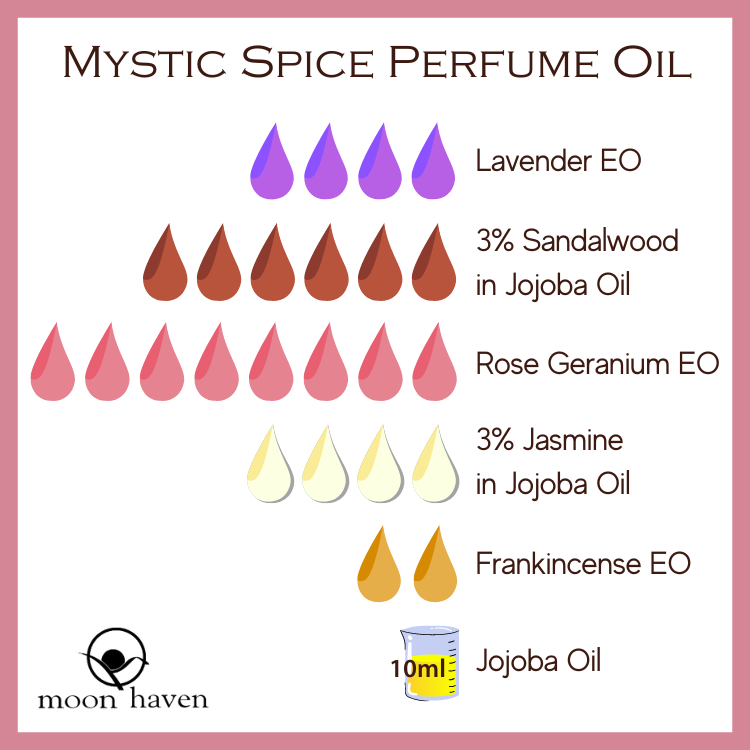 Mystic Spice Perfume Oil
This luxurious perfume oil has a complex and balanced scent with a fresh and floral top note, a warm and woody base note, and sweet and floral middle notes.  Perfect for a romantic evening.
4 drops of lavender essential oil (Top note)

6 drops of 3% sandalwood in Jojoba oil (Base note)

8 drops of rose geranium essential oil (Middle note)

4 drops of 3% jasmine in jojoba oil (Middle note)

2 drops of frankincense essential oil (Base note)

10 ml of jojoba oil
Instructions:
In 10ml roller ball , mix the essential oils together

Top up the roller ball bottle with Fractionated Coconut Oil or Jojoba oil and place roller ball and cap on

Shake well to blend all the oils together.

Allow the perfume to sit for at least 24 hours before using to let the scent develop.
You can adjust the amount of essential oils used in each formula  to create a stronger or milder scent, depending on your personal preference.
These Formulas Are Very Tweakable...
Do you want to up the brightness in the first formula? Increase the sweet orange essential oil and decrease the ylang ylang.
Want more spice in the second formula?  Add more frankincense and decrease the rose geranium. Tweak away to your hearts content...but remember to write your changes down as you go along.
Of course if oyu have any questions - we'd love to hear from you.
Enjoy !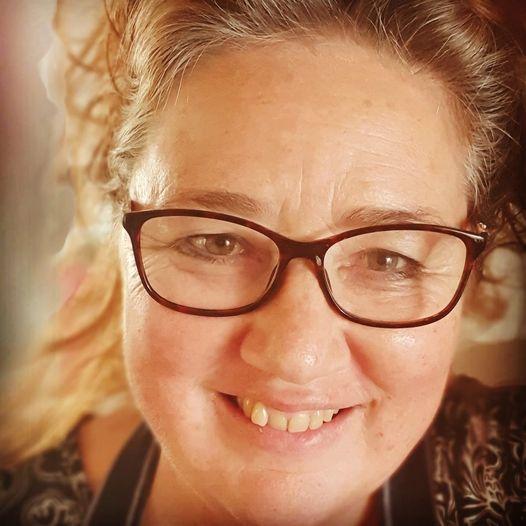 This article was written by Moon Haven's aromatherapist and founder Leonie Gully and as such represents her personal opinion on the given subject.
Subscribe to the Moon Haven Newsletter where each month Leonie and the Moon Haven Team share articles just like this one plus fill you in on all the happenings at the Moon Haven Cottage.
Subscribe to the Moon Haven  newsletter at moonhaven.com.au
Leonie loves to receive your emails, questions and requests for information .  Just email her at info@moonhaven.com.au
Leonie Gully- Moon Haven's Aromatherapist
While any advice provided is general in nature, it is not intended to replace medical diagnosis or treatment.  If you are at all concerned about your condition, it is important that you do consult your medical practitioner of choice for an individual consultation and treatment plan.
CHECK OUT OUR MOST POPULAR CONTENT
Always seek qualified medical advice regarding your own individual situation
Please note: Information in this article and on the moonhaven.com.au website represents the opinion of the author and as such is not intended to be a substitute for professional medical advice and should not be relied on as health or personal advice.
Always seek the guidance of your doctor or other qualified health professional with any questions you may have regarding your health or a medical condition.