MIY - Moisturising Shower & Bath Oil
Get ready to take your bath and shower routine to the next level with a luxurious and nourishing water-soluble oil!
This versatile recipe combines carrier oils, emulsifiers, and essential oils to create a decadent experience that will leave your skin feeling soft, supple, and smelling delicious.
Why make a water soluble shower and bath oil?
Water-soluble bath & shower oils leave very little oily residue in your shower, making them fantastic for nurturing your skin, easy to use and even better so simple to clean up after
So, whether you're in the mood for a soak in the tub or a quick shower, why not make a bottle or two of this versatile shower & bath oil with your favourite scent blend?
So here we go...
Ingredients:
60 ml of Fractionated Coconut Oil or Sweet Almond Oil

15 ml of Solubiliser

10-20 drops of Essential Oil or Blend (depending on your desired strength & scent )
Instructions:
In a small bowl, combine the fractionated coconut oil, sweet almond oil, and Solubiliser. Stir until fully blended.

Add the essential oil or fragrance oil to the carrier oil mixture. Stir well to ensure that the scent is evenly distributed.

Pour the mixture into a clean, dry bottle with a tight-fitting lid. Shake well to ensure that all ingredients are well combined.

Be sure to store your scented oil in a cool, dry place away from direct sunlight.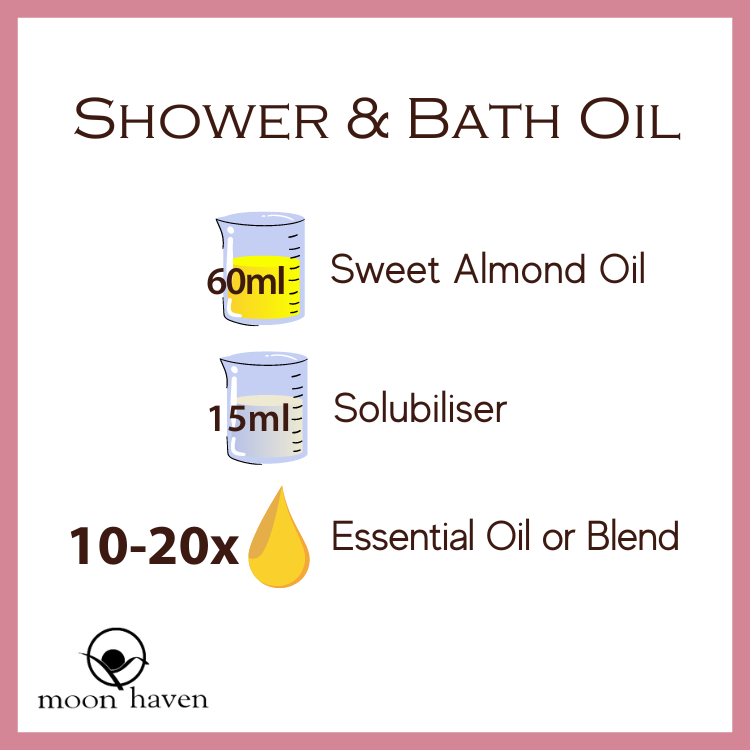 In the bath:
Add a few drops (or up to 1 tablespoon) of the scented bath oil to a warm bath.

Slip into the tub and let the luxurious and nourishing oil soak into your skin.

Note: Be careful getting in and out of the bathtub, as the oil can make surfaces slippery.
In the Shower:
Jump under the shower and get wet all over.

pour a small amount of the shower & bath oil into the palm of your hand and massage into your skin.

Let it soak in as you massage

Rinse off the excess oil with water.

Note: Just remember that the shower may be a little slippery so please be careful and do use a non-slip mat if needed.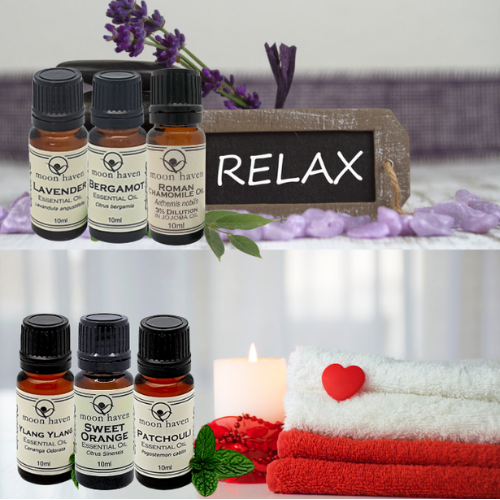 Essential Oil Suggestions
One of the best things about making your own bath & shower oil is that you can scent it to suit your mood using by choosing your own unique blend of essential oils.
Relax
For a relaxing shower experience, why not try blending our Lavender, Bergamot, essential oil and Roman Chamomile 3% in Jojoba. These oils are noted for helping to reduce stress and promote calmness.
Romantic
If romance is on your mind, try blending our Ylang-Ylang, Patchouli, and Sweet Orange essential oils to create an enchanting and seductive atmosphere.
The possibilities for creating your perfect blend are endless. Experiment with different oils to find the perfect scent for you and your mood, and transform your shower (and bath) into a luxurious and personalized oasis.
Let us know about your creations
Congratulations!
You're now equipped with the knowledge to create your very own luxurious and personalized water-soluble shower & bath oils.
We can't wait to hear about your creations and the amazing scents you come up with.
Don't be afraid to experiment and try new things – that's what makes this process so fun and rewarding!
So go ahead, whip up a few bottles for yourself or gift them to your loved ones, and let us know what you think. (you can message us by clicking on the little blue icon in lower right hand corner of this page)
We're cheering you on every step of the way.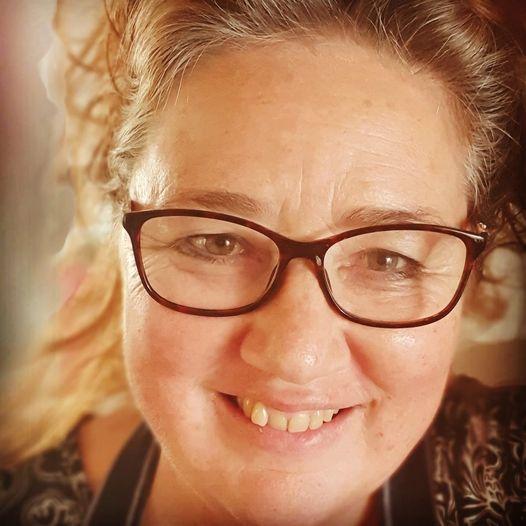 This article was written by Moon Haven's aromatherapist and founder Leonie Gully and as such represents her personal opinion on the given subject.
Subscribe to the Moon Haven Newsletter where each month Leonie and the Moon Haven Team share articles just like this one plus fill you in on all the happenings at the Moon Haven Cottage.
Subscribe to the Moon Haven  newsletter at moonhaven.com.au
Leonie loves to receive your emails, questions and requests for information .  Just email her at info@moonhaven.com.au
Leonie Gully- Moon Haven's Aromatherapist
While any advice provided is general in nature, it is not intended to replace medical diagnosis or treatment.  If you are at all concerned about your condition, it is important that you do consult your medical practitioner of choice for an individual consultation and treatment plan.
CHECK OUT OUR MOST POPULAR CONTENT
Always seek qualified medical advice regarding your own individual situation
Please note: Information in this article and on the moonhaven.com.au website represents the opinion of the author and as such is not intended to be a substitute for professional medical advice and should not be relied on as health or personal advice.
Always seek the guidance of your doctor or other qualified health professional with any questions you may have regarding your health or a medical condition.