Essential Oil Recipes to Uplift & Soothe
Diffuse, Bathe & Massage the Blues Away
We are thrilled to introduce our latest DIY essential oil formulations, lovingly created by our very own aromatherapists, Laura and Leonie.
These recipes were formulated with the utmost care and attention to detail, ensuring that you experience the uplifting benefits of these beautiful essential oils.
While we understand that we can't promise that our formulations will completely eradicate the blues, we firmly believe that a little self-care and pampering can make a significant difference in brightening your day.
Taking time for yourself is a great start to nurturing your wellbeing.
With much love and encouragement
Laura & Leonie of moon haven
1. Calming Diffuser Blend
Ingredients:
5 drops of Lavender oil (Lavandula angustifolia)

3 drops of Bergamot oil (Citrus bergamia)

2 drops of Roman Chamomile oil (Chamaemelum nobile)
How to use:
Add the essential oil drops to a diffuser filled with the appropriate amount of water (as per the diffuser's instructions). Allow the diffuser to run in a comfortable space, ideally where you spend most of your time, to immerse yourself in the calming aroma.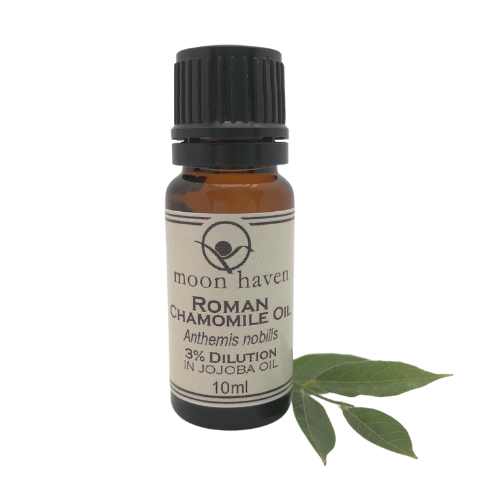 Rest & relaxation in a bottle
2. Uplifting Bath Blend
Ingredients:
4 drops of Bergamot oil (Citrus bergamia)

3 drops of Ylang-Ylang oil (Cananga odorata)

2 drops of Frankincense oil (Boswellia carterii )
How to use:
Fill your bathtub with warm water. In a separate container, mix the essential oils with a carrier oil (like coconut oil or jojoba oil) or unscented bath salts (about 1 cup). Once thoroughly blended, add this mixture to your bathwater. Soak in the tub for 20-30 minutes, allowing the aromatic oils to soothe and uplift your mood.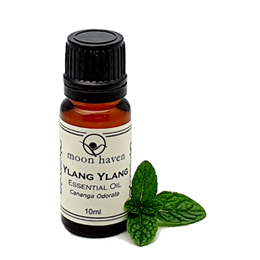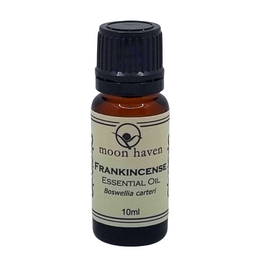 The "king of essential oils"
3. Grounding Massage Blend
Ingredients:
4 drops of Cedarwood oil (Cedrus atlantica or Juniperus virginiana)

3 drops of Lavender oil (Lavandula angustifolia)

1 drop of Vetiver oil (Vetiveria zizanioides)
How to use:
Mix the essential oil drops with 30ml (approximately 2 tablespoons) of a carrier oil such as sweet almond oil or grapeseed oil. Once blended, this concoction can be used for a soothing body massage. Focus on areas with muscle tension or where you carry stress, like the neck, shoulders, and soles of the feet. The act of massaging combined with the grounding aroma can be immensely therapeutic.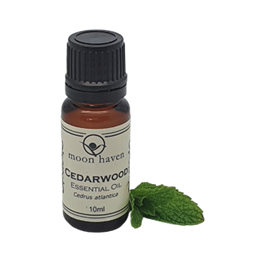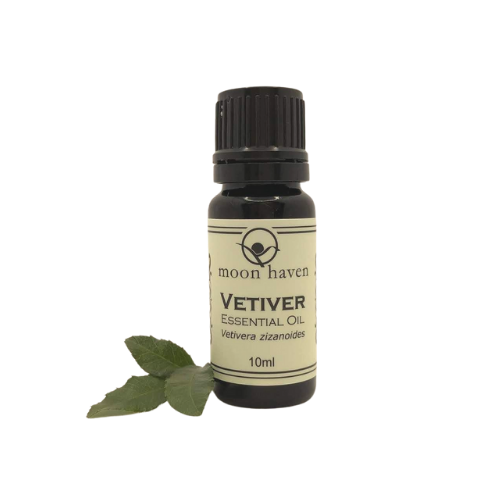 This article was written by Moon Haven's aromatherapist and founder Leonie Gully and as such represents her personal opinion on the given subject.
Subscribe to the Moon Haven Newsletter where each month Leonie and the Moon Haven Team share articles just like this one plus fill you in on all the happenings at the Moon Haven Cottage.
Subscribe to the Moon Haven  newsletter at moonhaven.com.au
Leonie loves to receive your emails, questions and requests for information .  Just email her at info@moonhaven.com.au
Leonie Gully- Moon Haven's Aromatherapist
While any advice provided is general in nature, it is not intended to replace medical diagnosis or treatment.  If you are at all concerned about your condition, it is important that you do consult your medical practitioner of choice for an individual consultation and treatment plan.
CHECK OUT OUR MOST POPULAR CONTENT
Always seek qualified medical advice regarding your own individual situation
Please note: Information in this article and on the moonhaven.com.au website represents the opinion of the author and as such is not intended to be a substitute for professional medical advice and should not be relied on as health or personal advice.
Always seek the guidance of your doctor or other qualified health professional with any questions you may have regarding your health or a medical condition.