5 Surprising Facts About Lemon Myrtle Essential Oil: Plus How to Use It!
We just love Lemon Myrtle essential Oil.
Here are 5 fascinating facts for you about this amazing essential oil.
Prepare to be surprised!
1. More Potent than Tea Tree Oil
You heard that right! When it comes to antimicrobial properties, Lemon Myrtle leaves its more famous cousin, tea tree oil, in the dust. In fact, studies have shown that it has even greater antimicrobial activity1 .
How to Use:
Mix 20 drops of Lemon Myrtle essential oil with 5 ml of solubiliser.  Add to a spray bottle and add 50ml of distilled  water.
Use it to disinfect surfaces around your home.
3. Nature's Own Insect Repellant
If you're tired of mosquito bites, here's some good news: Lemon Myrtle works as a natural insect repellent.
How to Use:
Mix a 5 drops with 5 ml carrier oil like fractionated coconut oil and
apply it to your skin to keep bugs at bay.
We recommend that you do a skin patch test first to ensure no irritation.
4. Rich in Antioxidants
Lemon Myrtle is packed with antioxidants like quercetin, tannins, and even more! This makes it an incredible choice for boosting your immune system and keeping you healthy 3.
How to Use:
Add a 1 or 2 drops to your regular skin-care lotion to benefit from its antioxidant properties.
Make sure to do a patch test first!
5. It Can Help You Focus
If you find yourself struggling to concentrate, Lemon Myrtle can come to your rescue. Studies have shown that essential oils like Lemon Myrtle can improve cognitive function 4.
How to Use:
Diffuse 4-5 drops in your workspace or study area
to sharpen your focus and improve concentration.
There you go, folks! Five quick and surprising facts, along with tips on how to use Lemon Myrtle Essential Oil. I'm sure at least one of these facts caught you off guard! Until next time, keep exploring the aromatic world.
To dive deeper into the world of aromatherapy, visit MoonHaven.com.au
Footnotes:
(Hayes & Markovic, 2002)

(Kiecolt-Glaser et al., 2008)

(Cock, 2013)

(Komori et al., 1995)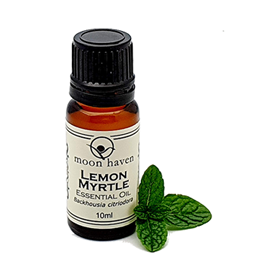 Our most intense lemon scent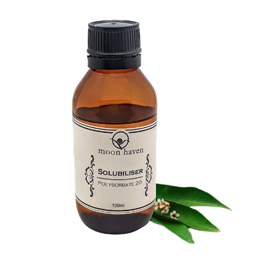 This article was written by Moon Haven's aromatherapist and founder Leonie Gully and as such represents her personal opinion on the given subject.
Subscribe to the Moon Haven Newsletter where each month Leonie and the Moon Haven Team share articles just like this one plus fill you in on all the happenings at the Moon Haven Cottage.
Subscribe to the Moon Haven  newsletter at moonhaven.com.au
Leonie loves to receive your emails, questions and requests for information .  Just email her at info@moonhaven.com.au
Leonie Gully- Moon Haven's Aromatherapist
While any advice provided is general in nature, it is not intended to replace medical diagnosis or treatment.  If you are at all concerned about your condition, it is important that you do consult your medical practitioner of choice for an individual consultation and treatment plan.
CHECK OUT OUR MOST POPULAR CONTENT
Always seek qualified medical advice regarding your own individual situation
Please note: Information in this article and on the moonhaven.com.au website represents the opinion of the author and as such is not intended to be a substitute for professional medical advice and should not be relied on as health or personal advice.
Always seek the guidance of your doctor or other qualified health professional with any questions you may have regarding your health or a medical condition.