Anti-Ageing Skincare - How To's, Hints & Tips
Greeting fellow skincare lovers
As the creator of our popular two-step anti-aging skincare system (our moonies have rated it 4.9 stars out of 5) I'm excited to share some insider tips with you on how to get the most out of these two bottles of magic.
In this article, I'll be providing practical advice on how to incorporate your Anti Ageing SkinCare System into your daily routine.
I'll also be sharing some tips on how to layer and combine the product with other skincare products, along with some common mistakes to avoid.
We can't wait to hear how your skin responds when it is fully nurtured, hydrated and supported by these products - so please do let us know.
- Leonie of moon haven
How To - Age Defying Serum:
After the BioNutrient Gel has been absorbed into the skin, gently massage a small amount (5 - 8 drops) of the Serum onto the face, neck and décolletage
Allow the Serum to absorb into the skin.  There should be no oiliness visible after 5 minutes.  If the Serum has not penetrated within this time, then you may use a little less on your next application.  In this case more is not better… just wasteful!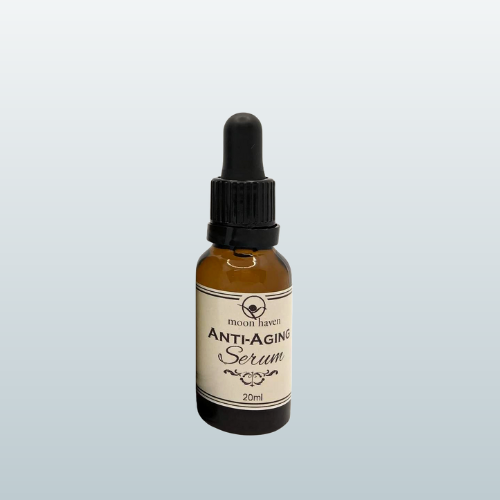 Hint:
If time is of the essence - mix the two products together in your palm and massage into your skin.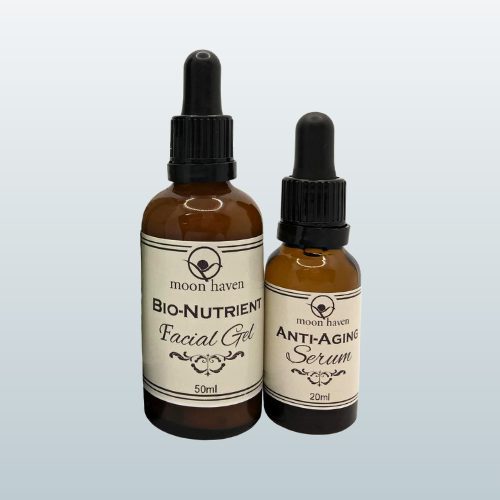 How often should I use my Anti Ageing Skincare (AAS)?
At Moon Haven we say that our Anti Ageing Skincare (AAS) system  can be beneficial for all skin types.
If you're under 30 then we recommend using it once a week as a deeply nurturing overnight skin booster.. 
Then as we get older and our skin becomes drier and in need of more nutrition then we recommend you increase the frequency.
For example many in their 40's, 50's and beyond get fantastic results when they use it every night.
You see, as we age the skin begins to lose its elasticity, and so the frequency of use for these products can be gradually increased up to the point where it is applied nightly.
Can I still use my daytime skin care and how do I fit treatments into my skin care regime?
This is easy to answer… you see Moon Haven's Anti Ageing System has been formulated to work in conjunction with your current skin care program. 
Use at night
We have found that most people use the Anti-Ageing System at night so that their skin has time to process and utilise all the marvellous nutrients and age-defying compounds in the system while they sleep.
Alternate with Ultra Night Cream  
We recommend you use MH's Ultra Night Cream on the nights you aren't using your AAS.
Use eye cream during the day
If you are using your Anti-Ageing products each night then you will no longer need to use a night time moisturising cream and you may want to switch to applying your eye cream to be used during the day.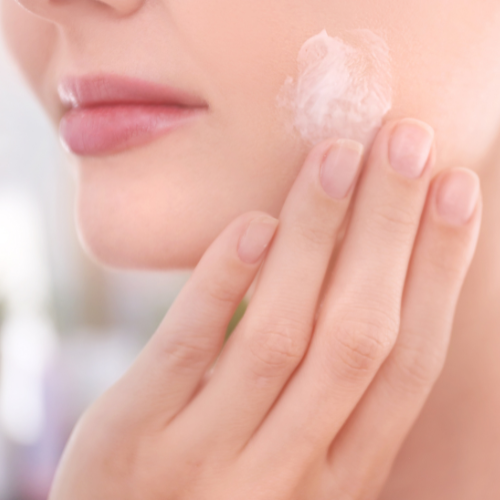 Hints and Tips to Keep Your Skin in Tip Top Condition:
Use a soothing eye cream on around your eyes and lids every morning

Gently exfoliate your facial skin and décolletage once or twice per week

Apply a drawing clay mask once per week but ensure that you moisturise your skin well afterwards

Enjoy a good face massage at least once per month using a good serum or facial massage oil.
 Of course, as we personally formulate Moon Haven's comprehensive skin care range please do phone or email us if you would like to
discuss adding other steps or treatments to your skin care regime 
BioNutrient Facial Gel
Water, Glycerine, Calendula Extract, Gotu Kola Extract, Hydrolised Wheat Amino Acid, Olive Squalane, Optiphen Plus, Sodium Hydroxide Solution, Carbopol - Carbomer, Aloe Powder, Carrot Seed Oil and Frankincense, Rosewood and Patchouli Essential Oils.
Age Defying Serum
Olive Squalane, Rose Hip, Evening Primrose, Apricot Kernel, Vitamin E, Pro-Vitamin B5, Vitamin A, Frankincense and Rosewood Essential Oils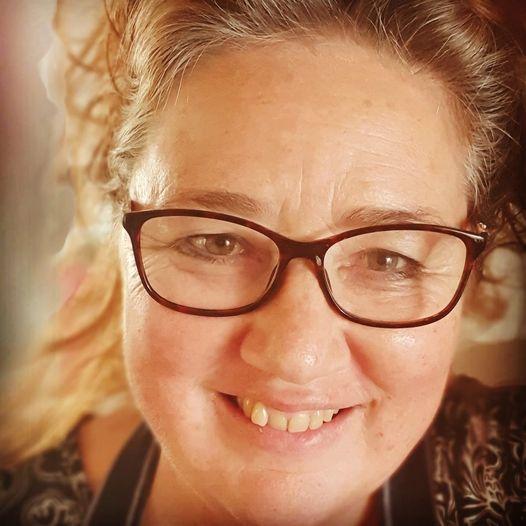 This article was written by Moon Haven's aromatherapist and founder Leonie Gully and as such represents her personal opinion on the given subject.
Subscribe to the Moon Haven Newsletter where each month Leonie and the Moon Haven Team share articles just like this one plus fill you in on all the happenings at the Moon Haven Cottage.
Subscribe to the Moon Haven  newsletter at moonhaven.com.au
Leonie loves to receive your emails, questions and requests for information .  Just email her at info@moonhaven.com.au
Leonie Gully- Moon Haven's Aromatherapist
While any advice provided is general in nature, it is not intended to replace medical diagnosis or treatment.  If you are at all concerned about your condition, it is important that you do consult your medical practitioner of choice for an individual consultation and treatment plan.
CHECK OUT OUR MOST POPULAR CONTENT
Always seek qualified medical advice regarding your own individual situation
Please note: Information in this article and on the moonhaven.com.au website represents the opinion of the author and as such is not intended to be a substitute for professional medical advice and should not be relied on as health or personal advice.
Always seek the guidance of your doctor or other qualified health professional with any questions you may have regarding your health or a medical condition.