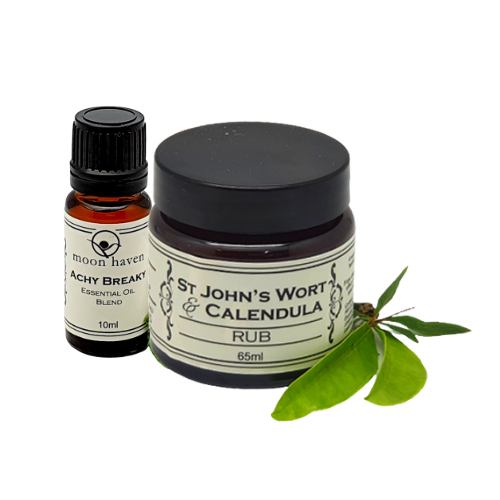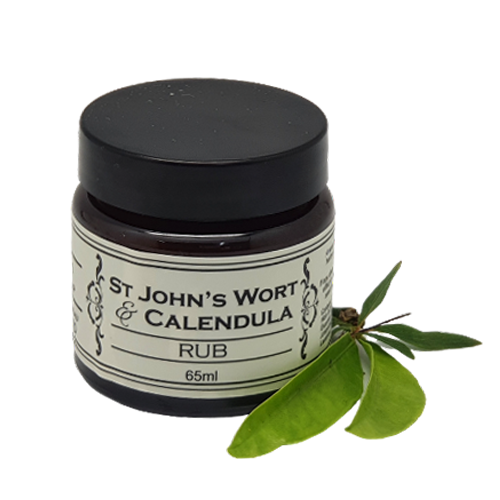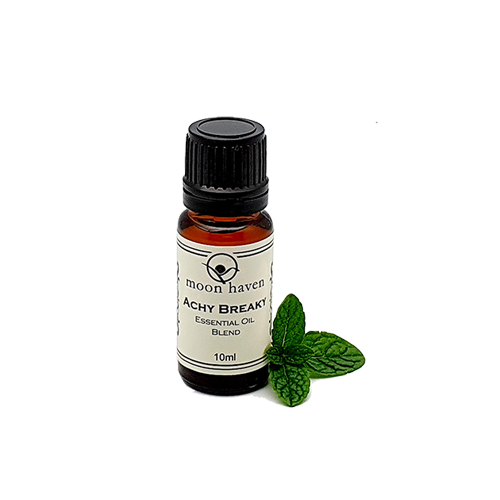 This rub is so good for aches and pains, I rub it on joints at bedtime and wake up with no pain
Lisa T.- Qld (SJWAC Customer)
Achy Breaky Duo
SOOTHE YOUR BODY PAIN

Boost the effectiveness of your St John's Wort & Calendula Rub (SJWAC) with our Achy Breaky Essential Oil Blend
St John's Wort & Calendula Rub 65ml
Achy Breaky Essential Oil Blend 10ml
SJWAC Booster fact sheet
Uses:
muscle recovery
sports injuries
arthritis
inflammation
period cramps and pain
100% No-Risk Money Back Guarantee
Achy Breaky Duo
SOOTHE YOUR BODY PAIN

Boost the effectiveness of your St John's Wort & Calendula Rub (SJWAC) with our Achy Breaky Essential Oil Blend
St John's Wort & Calendula Rub 65ml
Achy Breaky Essential Oil Blend 10ml
SJWAC Booster fact sheet
Uses:
muscle recovery
sports injuries
arthritis
inflammation
period cramps and pain
How can I use these products?

Apply St John's Wort & Calendula Rub to affected areas as explained in the fact sheet.
Add one or two drops of Achy Breaky Essential Oil Blend on top of the rub and smooth into the skin.
Wash hands immediately - you don't want this combination in your eyes or on any mucous membrane!
See product fact sheet for more info

This herb rich rub is the ideal medium for your next massage...it's even great for those on the spot massages - neck, shoulders, knees, hips even fingers and toes.




This non-drip, easy to use, take anywhere, use anywhere, convenient massage base is ideal for all massage situations.
Allow the benefits of a deep tissue massage to soothe your body of it's tiredness, stress, aches and pains.




Because the rub is dripless, it can be applied under clothes in the workplace, office, or on the sports field.
You don't need much to get a good massage... so a jar lasts a long time.

Shipping (within Australia)

Shipping within Australia




We ship 99% of our orders via Auspost's Express Post Service to ensure you receive your order in the fastest timeframe possible 

FREE shipping is available for orders over a specified amount. 




See our Shipping FAQ for the current FREE Shipping Threshold




Place your orders before 10 am for same day dispatch




Orders received before 10am WA time, Monday-Friday are usually  shipped the same day while orders placed after 10 am are usually be shipped the next business day.

Of course this is dependent on having everything you've ordered in stock.




We make our products at the moon haven cottage - so sometimes we run out




If we need to make something to fulfill your order, then we'll give you a call and discuss the delivery and timing options with you.

All international orders are sent via Australia Post.


Important note: International shipping may be limited or delayed due to Covid-19 restrictions.




Postage will be calculated at the checkout. According to the destination country you may be offered the following options:

Economy Air

- (

We DO NOT recommend this option as

)The most economical postal option. It does not provide track and trace which we consider vital .

Standard -

Our recommended shipping option!
The same service level as Economy Air includes parcel track and trace which is vital under current Covid-19 freight conditions.




100% No Risk - Money Back Guarantee

First, we have an incredible refund policy: we stand by our products 100%!

If you are not completely satisfied with your order, we will give you a full refund minus shipping- no questions asked.

Just call us on +61 897 555 470 or message us at Moon Haven Natural to let us know and we'll sort it our for you ASAP..

Always seek qualified medical advice regarding your own individual situation

Always seek qualified medical advice regarding your own individual situation
Please note: Information in this article and on the moonhaven.com.au website represents the opinion of the author and as such is not intended to be a substitute for professional medical advice and should not be relied on as health or personal advice.

Always seek the guidance of your doctor or other qualified health professional with any questions you may have regarding your health or a medical condition.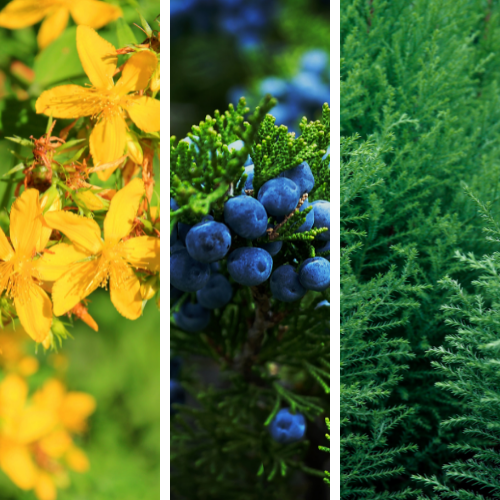 Achy Breaky Duo Story
Moon Haven was born from the creation of our St John's Wort & Calendula Rub (SJWAC).
You see Leonie had suffered for many years from the debilitating muscle pain of fibromyalgia. After searching for solutions and discussing her plight with aromatherapists and herbalists around the world, searching the herbal and botanical world Leonie worked on developing an effective formula to help her.
After a much experimentation and testing, Leonie finally settled on the formula for this jar of wonder.
"SJWAC has been amazing. My fibromyalgia improved from the moment I applied it to my pain areas " Leonie SJWAC's formulator

Need for a booster
Yet at times SJWAC was not enough - pain sometimes broke through.
So we thought that on occasion, we could add a drop or two of the SJWAC essential oil blend ( Achy Breaky Essential Oil Blend) on top of the SJWAC for even greater impact...and it works!

Made with
Passion

by our

Family

for

Yours

WHY OUR ESSENTIAL OIL PRICES ARE SO REASONABLE?




Every day we're asked "Why are Moon Haven's essential oil prices so reasonable?"

and it's often followed by ..."so does that mean your quality is not as good as XXXX or YYYY brands?"




Nothing could be further from the truth. "Our oils are 100% pure and unadulterated - just as nature intended".




So why ARE our Essential oil prices so reasonable?




WE'RE A SMALL FAMILY BUSINESS

Our marketing costs are minuscule, we don't advertise on a grand scale -

we rely mainly on you and all our moonies to help spread the word about what we do.




ESSENTIAL OILS SHOULD BE AFFORDABLE

Part of our philosophy is that 100% pure, natural, beautiful quality essential oils shouldn't break the bank.

We want you to be able to use your oils every day and not be concerned about the cost. ❤️
Why Our Moonies Love

Moon Haven?
★ ★ ★ ★ ★
"I'm so pleased I discovered moon haven."
"I used to only buy oils from a well known aromatherapy multi level marketing company - I even sold them for a while.
I've found that Moon haven's oils are just as good, if not better and their prices are fantastic. "
- Brianna T Campsie, NSW
★ ★ ★ ★ ★
"They make using oils easy- fact sheets, videos and individual support... amazing!"
I didn't know anything about using essential oils and everything I read was just so confusing.
But Leonie and her team were just brilliant. Their fact sheets and how to videos as well as their answers to questions on the phone have got me using my essential oils every day.
Can't thank you enough ladies.
- Claire F. Melbourne, Vic.
We would love YOUR feedback
Tell us what you think about our creation

Always helps to relieve the tightness in the muscles when used overnight.
C
Cassi Dern
(Mackay, AU)
Universal Herbal Ointment
My toddler suffers from eczema on his legs and feet and we have been battling it for most of his little life. We've tried every cream and steroid you can think of. Up until my parents recently visited from QLD and came home with a tub of this ointment. We've been using it for 3 days and the difference in his eczema is PHENOMENAL!!!! He is no longer crying or itching at the eczema spots and it smells absolutely divine! We will absolutely be regular customers. Thank you so much for creating a product that actually works and is completely natural!