Is Soap Good for Your Skin?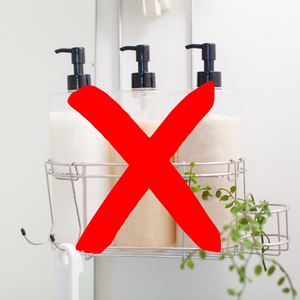 How many times have you heard- Using a non -soap cleanser is better for your skin? (think body washes, liquid soaps etc)
For me -  nothing could be further from the truth!
You see, if your skin is compromised, dry, itchy, scaly damaged... then a good, hand made, natural cold pressed soap - used correctly-  is just what you skin needs. 
So how can I back up these wild claims?
That's easy.
20+ years of experience  
Over the past 20 odd years, my team and I have helped our wonderful moon haven clients reclaim the skin that they were meant to have, using our simple systems which always includes our very own natural, cold process soap.
Each encounter with our moonies has proven to me time and time again that using great cold process soap is a wonderful, non -toxic way to cleanse your body.  It's even more beneficial for damaged, compromised skin.
BUT
And this is a huge BUT... you must use the right soap!
Use the correct type of soap
You see all cleansers, no matter if they are liquid detergents, solid, mass produced or gentle to the skin cold process soaps aim to remove oil and dirt from your skin. That is their job.
So our aim when formulating a good cleanser is to remove the dirt and leave as much of the natural oils in the skin as possible. 
And that is how we have formulated Moon Haven's range of natural cold process soaps.
How Do We Make Skin Friendly Soap Bars?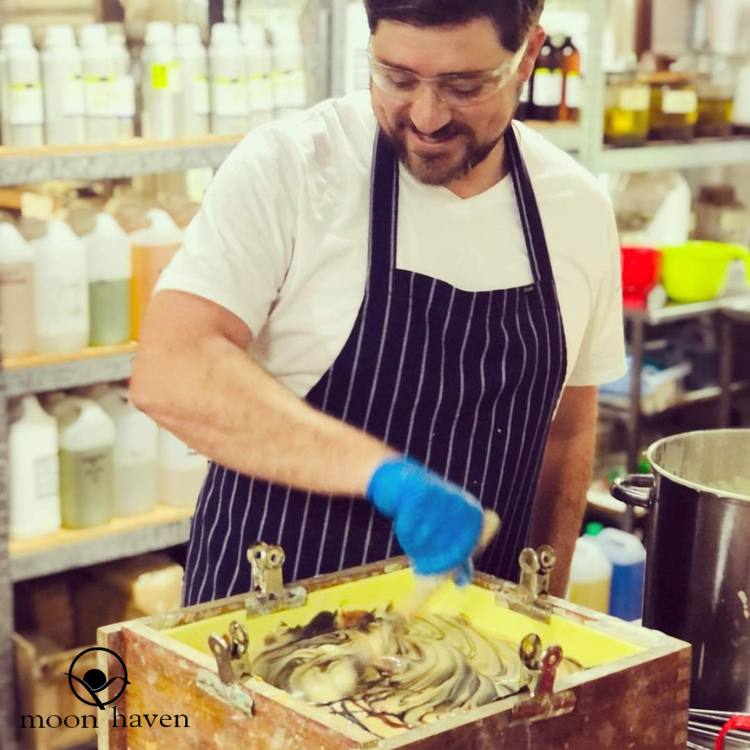 We use extra skin-friendly oils - We ensure that our bars retain just enough extra free botanical oils so that the skin is not left dry, irritated and dehydrated.  In fact your skin should feel better than when you went into the shower!




Our soaps are formulated and handcrafted so that each bar contains its complete natural compliment of emollient, moisturising glycerine.  Amazingly this amazing ingredient is removed from mass produced, supermarket soaps to be sold of to skin care companies to use in their moisturisers and serums!




We use a high percentage (over 65%) of skin conditioning botanical oils in our soap.  You see olive and rice bran oils contain some of the most skin loving, conditioning, anti-inflammatory long chain fatty acids available...and these convert into skin living, conditioning anti-inflammatory soaps! 
Our Three Year Soap Formula
Our soap formula didn't come out of a book. 
We didn't buy a recipe.
Nor did we have someone formulate it.
Our soap formula evolved. 
It took three years of experimentation, trialling on ourselves, family and friends - tweaking and reformulating to the point where we now have a beautifully gently cleansing bar for everyone (and every skin) enjoy.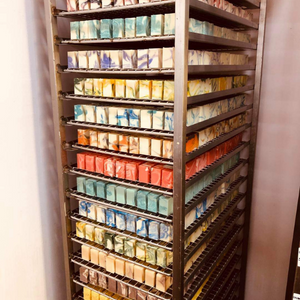 Which Moon Haven soap is your favourite?
CHECK OUT OUR MOST POPULAR CONTENT
Always seek qualified medical advice regarding your own individual situation
Please note: Information in this article and on the moonhaven.com.au website represents the opinion of the author and as such is not intended to be a substitute for professional medical advice and should not be relied on as health or personal advice.
Always seek the guidance of your doctor or other qualified health professional with any questions you may have regarding your health or a medical condition.