Treat head lice and nits ... naturally
Leonie, our resident aromatherapist, has formulated the powerful essential oil combination to combat head lice and nit infestations.
Lice Be Gone Concentrate:
Use this Powerful essential oil blend to make your own Lice Be Gone Oil and Preventative Spray
Lice Be Gone Oil Formulation
Combine 1.5 ml Lice Be Gone Concentrate with 30 ml (1 ½ tablespoons) sunflower or rice bran oil.
Apply the Lice Be Gone oil mixture to the hair, ensuring that each strand of hair is coated.
Allow the Lice be Gone mixture to soak into the hair and scalp for approximately 10 minutes
Comb through the hair with a lice comb, regularly removing the head lice and eggs from the comb with a tissue.
Shampoo the hair twice
Condition and dry the hair as usual.
Check the scalp and hair daily for head lice and eggs
Repeat the application if further head lice activity is found
Please Note: Higher concentrations of Lice Be Gone Concentrate does not increase the effectiveness of the product DO NOT increase the ratio/ amount of Lice Be Gone Concentrate above the recommended rate as used above.
Lice Be Gone Preventative Spray:
Combine 2.5 ml Lice Be Gone Concentrate with 2.5 ml Shampoo in a spray bottle and mix well
Add 100ml water to the bottle and shake to combine.
Use this Lice Be Gone Preventative Spray every morning to help prevent nit infestations
Shake the bottle to mix
Slightly dampen the hair by spraying small amount onto the hair and scalp
Comb or brush through
Repeat daily
Regular price
Sale price
$20.00 AUD
Unit price
per
Sale
Sold out
FREE Express Post delivery for Australian orders over $80
View full details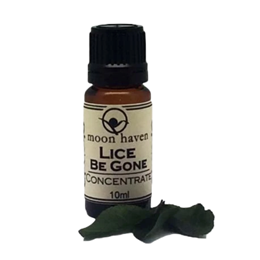 Excellent product s
Excellent product
Gets rid of the little suckers without damaging the hair
Great product
Would highly recommend the preventative spray. Have been using for a few years now. There are always a couple of head lice outbreaks at school each year and my children have never had them! Even when sitting next to someone who has!!
Great Value

Effective and value for money

Recommended

Proven safe and for all ages
Collapsible content
Shipping (within Australia)

Shipping within Australia 

.We usually use Auspost's Express Post Service to ensure you receive your order in the fastest timeframe possible 


Free Postage & Handling for  Orders over $80

All orders that total more than $80 (excluding shipping costs) for delivery within Australia qualify for free postage and handling. 


$14.95 Shipping for Orders Less than $80

For all orders totalling less than $80 for delivery within Australia qualify for our flat rate postage fee of $14.95.

Place your orders before 10 am for same day dispatch

Orders received before 10am WA time, Monday-Friday are usually  shipped the same day while orders placed after 10 am are usually be shipped the next business day.


We make our products at the moon haven cottage - so sometimes we run out
Of course this is dependent on having everything you've ordered in stock. 

If we need to make something to fulfill your order, then we'll give you a call and discuss the delivery and timing options with you.
International Shipping

All international orders are sent via Australia Post.
Important note: International shipping may be limited or delayed due to Covid-19 restrictions. 

Postage will be calculated at the checkout. According to the destination  country you may be offered the following options:

Economy Air - (We DO NOT recommend this option  as )The most economical  postal option. It does not provide track and trace which we consider vital 

Standard - Our recommended shipping option! The same service level as Economy Air includes  parcel track and trace 
which is vital under current Covid-19 freight conditions.
100% No Risk - Money Back Guarantee

First, we have an incredible refund policy: we stand by our products 100%!

If you are not completely satisfied with your order, we will give you a full refund minus shipping- no questions asked.

Just call us on +61 897 555 470 or message us at Moon Haven Natural to let us know and we'll  sort it our for you ASAP..
Always seek qualified medical advice regarding your own individual situation

Important: Always seek qualified medical advice regarding your own individual situation

Please
note: Information in this article and on the moonhaven.com.au website
represents the opinion of the author and as such is not intended to be a
substitute for professional medical advice and should not be relied on
as health or personal advice.

Always seek the guidance of your
doctor or other qualified health professional with any questions you may
have regarding your health or a medical condition.

Made with Passion by our Family for Yours
CARING FOR YOU ... NATURALLY ... IS WHAT WE'RE PASSIONATE ABOUT
Moon Haven is all about looking after you - our wonderful moonies.

You see, being a small family business, we know the value of:
* building a lasting, personal relationship with you our client,
* serving you to the best of our ability and
* looking for the most effective, natural way to meet your wants and needs
You see - we do what we do - because of moonies like you.