Every Body needs Cleanser, Toner and Moisturiser to care for their skin - day in day out but its the other Essentials like Eye Cream and Nighttime Moisturiser that make for  the essential skin care solution for your skin.
We've put together our Essentials SkinCare Solutions Packs so you can save while you look after your skin day and night!.
With Moon Haven's wonderfully calming Cleansing Milk. Uplifting Facil Mists and nutrient rich Moisture Cream plus the two most necessary treatments to round out your skincare regime.. this pack represents fantstic value.
The Essentials Pack for Dry & Mature skin contains:
Herbal Cleansing Milk with Rose Geranium
Facial Mist with Rose Geranium
Moisturising Cream with Rose Geranium
Eye Cream with Calendula
Ultra Night Cream with Honey & Rosewood
The Essentials Pack for Oily & Unbalanced skin contains:
Herbal Cleansing Gel with Bergamot
Facial Mist with Bergamot
Nature's Own Moisture Lotion with Calendula and Chamomile
Eye Cream with Calendula
Ultra Night Cream with Honey & Rosewood
The Essentials Pack for Normal & Combination skin contains:
Herbal Cleansing Gel with Bergamot
Facial Mist with Bergamot
Moisturising Cream with Bergamot
Eye Cream with Calendula
Ultra Night Cream with Honey & Rosewood
 Please note: After receiving your feedback we have switched to using our travel friendly disc caps rather than the Travel-unfriendly lotion pumps.
Regular price
$115.00 AUD
Unit price
per
Sale
Sold out
FREE Express Post delivery for Australian orders over $80
View full details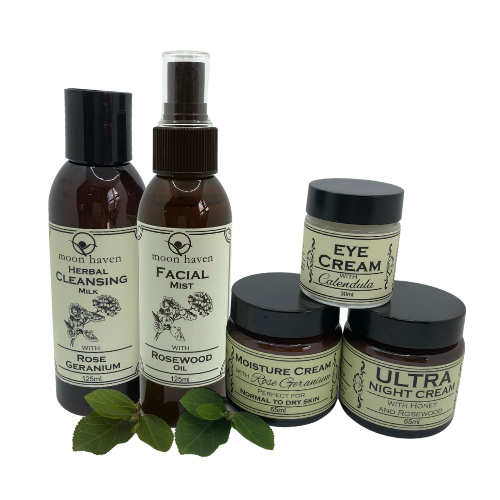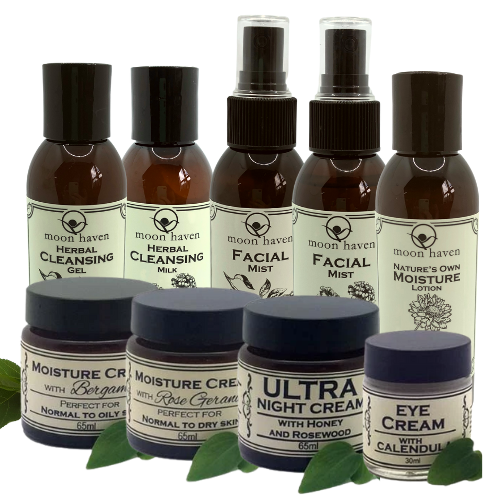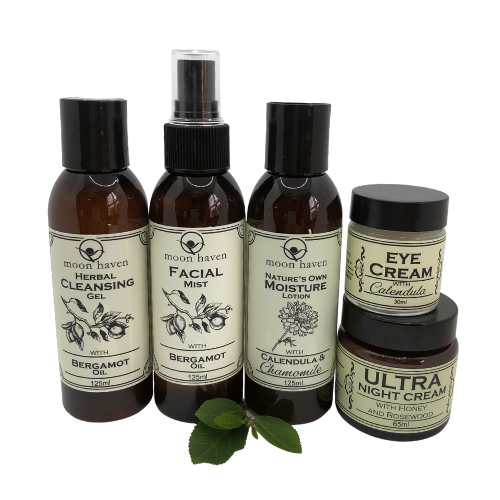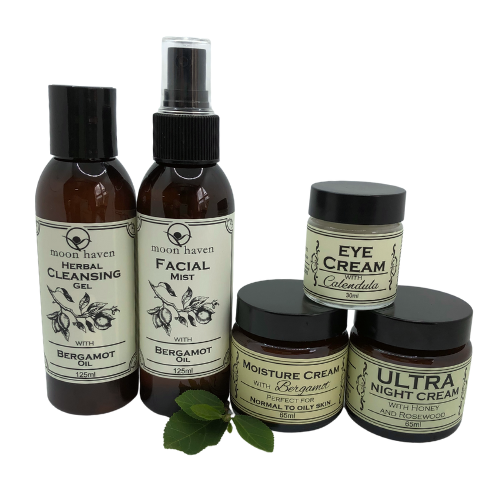 One happy customer
I was a happy customer of the St John's Wort & Calendula Rub and thought I'd give the essentials skin range a go. It's been over a week since using and very pleased with my purchase of the dry/mature skin pack. The cleanser is lovely and light with a great consistency and skin feels so hydrated after using. And so relieved that even though my skin can be sensitive, no reaction at all.
Skincare pack
As always very happy with your product if ever i need to change the order a bit it is never a problem the girls very helpful Thank you 😊
Much appreciated
My Go-To skin products
I've been using Moonhaven products for over 2 years now and honestly don't think ill be switching to anything else for a long time. They smell amazing, my skin feels so hydrated and healthy - you can tell they are made with quality ingredients.
I also love that theres no plastic in the packaging when it comes!!
Thanks so much Leonie and the Moonhaven team for making such beautiful, affordable products. My skin and I are very grateful <3
Wow Grace,
Thank you so much for your wonderful feedback.
It can be quite journey to find the right skincare for your skin.
We're so pleased you and your skin have found us!
Great Value

Effective and value for money

Recommended

Proven safe and for all ages
Collapsible content
Shipping (within Australia)

Shipping within Australia 

.We usually use Auspost's Express Post Service to ensure you receive your order in the fastest timeframe possible 


Free Postage & Handling for  Orders over $80

All orders that total more than $80 (excluding shipping costs) for delivery within Australia qualify for free postage and handling. 


$14.95 Shipping for Orders Less than $80

For all orders totalling less than $80 for delivery within Australia qualify for our flat rate postage fee of $14.95.

Place your orders before 10 am for same day dispatch

Orders received before 10am WA time, Monday-Friday are usually  shipped the same day while orders placed after 10 am are usually be shipped the next business day.


We make our products at the moon haven cottage - so sometimes we run out
Of course this is dependent on having everything you've ordered in stock. 

If we need to make something to fulfill your order, then we'll give you a call and discuss the delivery and timing options with you.
International Shipping

All international orders are sent via Australia Post.
Important note: International shipping may be limited or delayed due to Covid-19 restrictions. 

Postage will be calculated at the checkout. According to the destination  country you may be offered the following options:

Economy Air - (We DO NOT recommend this option  as )The most economical  postal option. It does not provide track and trace which we consider vital 

Standard - Our recommended shipping option! The same service level as Economy Air includes  parcel track and trace 
which is vital under current Covid-19 freight conditions.
100% No Risk - Money Back Guarantee

First, we have an incredible refund policy: we stand by our products 100%!

If you are not completely satisfied with your order, we will give you a full refund minus shipping- no questions asked.

Just call us on +61 897 555 470 or message us at Moon Haven Natural to let us know and we'll  sort it our for you ASAP..
Always seek qualified medical advice regarding your own individual situation

Important: Always seek qualified medical advice regarding your own individual situation

Please
note: Information in this article and on the moonhaven.com.au website
represents the opinion of the author and as such is not intended to be a
substitute for professional medical advice and should not be relied on
as health or personal advice.

Always seek the guidance of your
doctor or other qualified health professional with any questions you may
have regarding your health or a medical condition.

Made with Passion by our Family for Yours
CARING FOR YOU ... NATURALLY ... IS WHAT WE'RE PASSIONATE ABOUT
Moon Haven is all about looking after you - our wonderful moonies.

You see, being a small family business, we know the value of:
* building a lasting, personal relationship with you our client,
* serving you to the best of our ability and
* looking for the most effective, natural way to meet your wants and needs
You see - we do what we do - because of moonies like you.