Massage is not an indulgence it is a necessity. The father of medicine Hippocrates advised a daily massage as one pathway to long life and good health.
Our massage oil base has been professionally formulated for all skin types and include luxury oils such as Sweet Almond, Avocado, Grape Seed, Olive and Wheatgerm.
100ml glass bottle - enough massage oil for 5 full body massages (4 if the body in question is particularly large or hairy!)
Moon Haven's Achy Breaky Massage Oil is infused with precious essential oils for helping to ease muscular aches and pains.  Massage therapy is an important tool in combating bodily aches and pains and a weekly massage is highly recommended...daily is even better!
A blissfully relaxing and uplifting body rub. Enjoy an uplifting and gentling massage with Moon Haven's own bliss full Massage Oil.
Ideal for children and older people this gentle oil can be used on any body. We often recommend this massage oil for newborns and general baby massage.
Based on bergamot and lavender essential oils for gentle balancing and relaxation.
We call this massage oil our 'partner pamperer' and 'romance enhancer' and no wonder when it is based on seductive patchouli, rose geranium and ylang ylang essential oils.
Moon Haven's Essensual massage oil is infused with precious essential oils for sensuality and pampering your partner.
Moon Haven's Stress Less Massage Oil is infused with precious essential oils for helping to banish the stresses of the day and invoke a feeling of deep relaxation.
These oils include Lavender, Rose Geranium and a hint of Clary Sage.
This bottle of unscented massage oil is perfect just as it is for a soothing massage.  Of course you can always add in your choice of essential oils to suit your mood.
We recommend 10 drops of essential oils per 20ml of massage oil. This will give you a 2.5% dilution which is suitable for an all over body massage.
Use half this rate (that is 5 drops in 20 ml) for a facial massage.  In fact you will only need 5 ml of oil (that is a teaspoon of massage oil )for a wonderful face massage - just add 1 to 2 drops of essential oil
Ingredients:  Grapeseed Oil, Sunflower Oil, Soya Bean Oil, Sweet Almond Oil, Wheatgerm, Olive Oil, Avocado Oil, Rosemary Leaf Extract, Essential Oils.
Regular price
$17.00 AUD
Sale price
$17.00 AUD
Unit price
per
Sale
Sold out
FREE Express Post delivery for Australian orders over $80
View full details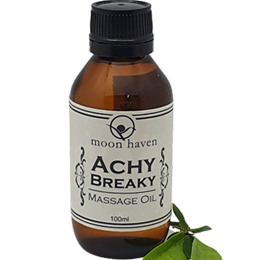 Great Value

Effective and value for money

Recommended

Proven safe and for all ages
Collapsible content
Shipping (within Australia)

Shipping within Australia 

.We usually use Auspost's Express Post Service to ensure you receive your order in the fastest timeframe possible 


Free Postage & Handling for  Orders over $80

All orders that total more than $80 (excluding shipping costs) for delivery within Australia qualify for free postage and handling. 


$14.95 Shipping for Orders Less than $80

For all orders totalling less than $80 for delivery within Australia qualify for our flat rate postage fee of $14.95.

Place your orders before 10 am for same day dispatch

Orders received before 10am WA time, Monday-Friday are usually  shipped the same day while orders placed after 10 am are usually be shipped the next business day.


We make our products at the moon haven cottage - so sometimes we run out
Of course this is dependent on having everything you've ordered in stock. 

If we need to make something to fulfill your order, then we'll give you a call and discuss the delivery and timing options with you.
International Shipping

All international orders are sent via Australia Post.
Important note: International shipping may be limited or delayed due to Covid-19 restrictions. 

Postage will be calculated at the checkout. According to the destination  country you may be offered the following options:

Economy Air - (We DO NOT recommend this option  as )The most economical  postal option. It does not provide track and trace which we consider vital 

Standard - Our recommended shipping option! The same service level as Economy Air includes  parcel track and trace 
which is vital under current Covid-19 freight conditions.
100% No Risk - Money Back Guarantee

First, we have an incredible refund policy: we stand by our products 100%!

If you are not completely satisfied with your order, we will give you a full refund minus shipping- no questions asked.

Just call us on +61 897 555 470 or message us at Moon Haven Natural to let us know and we'll  sort it our for you ASAP..
Always seek qualified medical advice regarding your own individual situation

Important: Always seek qualified medical advice regarding your own individual situation

Please
note: Information in this article and on the moonhaven.com.au website
represents the opinion of the author and as such is not intended to be a
substitute for professional medical advice and should not be relied on
as health or personal advice.

Always seek the guidance of your
doctor or other qualified health professional with any questions you may
have regarding your health or a medical condition.

Made with Passion by our Family for Yours
CARING FOR YOU ... NATURALLY ... IS WHAT WE'RE PASSIONATE ABOUT
Moon Haven is all about looking after you - our wonderful moonies.

You see, being a small family business, we know the value of:
* building a lasting, personal relationship with you our client,
* serving you to the best of our ability and
* looking for the most effective, natural way to meet your wants and needs
You see - we do what we do - because of moonies like you.