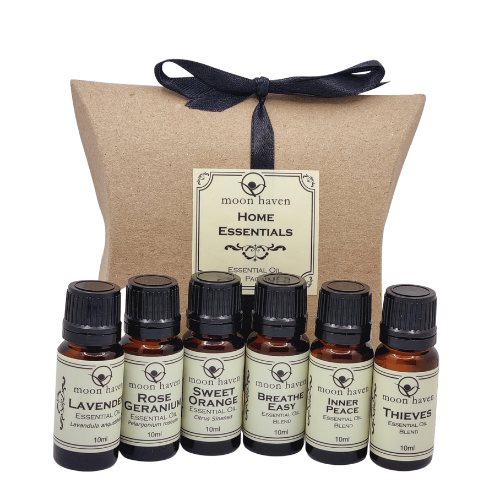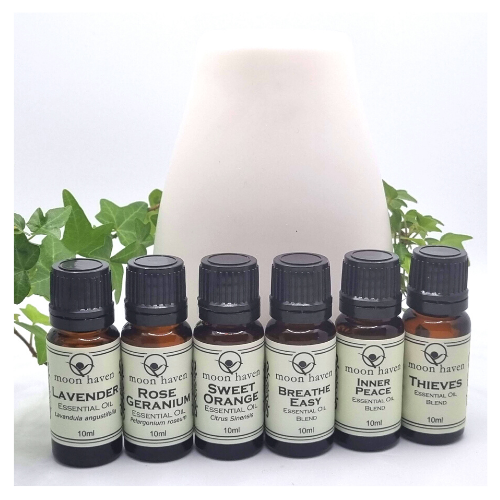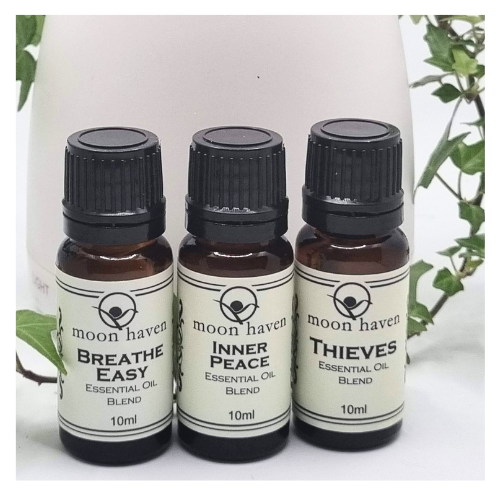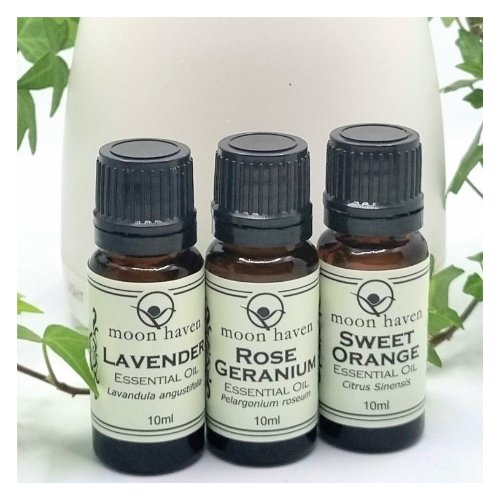 "Awesome customer service and the best oils on the market"

- Adam - Sydney, NSW (Aromatherapy starter pack customer)

Home Essentials Starter Pack
OUR 6 MOST POPULAR ESSENTIAL OILS & BLENDS IN ONE VALUE PACKED KIT

Our Home Essentials Starter Pack includes our:


3 most popular 100% pure essential oils
3 most useful 100% pure essential oil blends


PLUS you'll get our aromatherapy guide explaining how to use each oil and blend in the pack.
100% No-Risk Money Back Guarantee
Home Essentials Starter Pack
OUR 6 MOST POPULAR ESSENTIAL OILS & BLENDS IN ONE VALUE PACKED KIT

Our Home Essentials Starter Pack includes our:


3 most popular 100% pure essential oils
3 most useful 100% pure essential oil blends


PLUS you'll get our aromatherapy guide explaining how to use each oil and blend in the pack.
10 ml Lavender

(Lavendula angustifolia)

Pure Essential Oil
10 ml Rose Geranium (

Pelargonioum roseum)

Pure Essential Oil
10 ml Sweet Orange (

Citrus sinensis)

Pure Essential Oil
10 ml Breathe Easy Pure Essential Oil Blend
10 ml Inner Peace Essential Oil Blend
10 ml Thieves Essential Oil Blend
Information on how to use each of these products including monographs (essential oil profile sheets and suggested uses

How can I use these essential oils?

Diffuse:

Add 5 to 10 drops to your chosen essential oil or blend to the diffuser or oil burner. Experiment with different combinations of oils and blends. Don't forget to write each blend into a dedicated notebook along with your feedback. That way you'll get to know which blends are the most effective for you.




Bath:

Do not add undiluted essential oils to your bathwater. Oil and water do not mix. Instead mix 3 to 5 drops of your chosen essential oils or blends with a drop of shampoo/ detergent or in 20 ml (1 tablespoon) of full cream milk. Add this emulsion to the bathwater and slip in. The essential oils emulsifies in shampoo / detergent / milk and so distributes them more evenly throughout the bathwater.




Warm Compress:

Place 1 drop of essential oil into a small bowl of warm water. Soak a washcloth in the water and wring out well. Place the washcloth over the face with eyes closed and relax, Repeat as needed Do not exceed 1 drop of essential oil and use with caution when using strong essential oils and blends like Moon Haven's Clove, Cinnamon, Thieves Essential oils and blends.

Steam Shower Inhalation:

Enjoy an aromatherapy shower by placing 3 to 5 drops of your choice of essential oils and /or blends on a washcloth on the floor of your shower. Turn off the fan and enjoy the essential oil laden steam while you shower. (Note: Do not place essential oils directly onto the shower tiles as the oils may break down the tile glaze )




Massage Oil:

Create your own massage medium oil or cream. Use

Moon Haven's Essential Oil Dilutions Chart

to calculate the correct number of essential oil drops to add to your chosen carrier oil or massage cream. enjoy

!




Direct Inhalation:

Sometimes we just need a quick pick me up and that can mean just opening up your favourite essential oil or blend and taking a quick whiff. Alternatively, f you find the scent from an open bottle a little too strong for you, just smell the bottle cap. The result will be a gentler, more subtle fragrance.

Shipping (within Australia)

Shipping within Australia

.We usually use Auspost's Express Post Service to ensure you receive your order in the fastest timeframe possible




Free Postage & Handling for Orders over $80

All orders that total more than $80 (excluding shipping costs) for delivery within Australia qualify for free postage and handling.





$14.95 Shipping for Orders Less than $80

For all orders totalling less than $80 for delivery within Australia qualify for our flat rate postage fee of $14.95.




Place your orders before 10 am for same day dispatch

Orders received before 10am WA time, Monday-Friday are usually shipped the same day while orders placed after 10 am are usually be shipped the next business day.





We make our products at the moon haven cottage - so sometimes we run out
Of course this is dependent on having everything you've ordered in stock.

If we need to make something to fulfill your order, then we'll give you a call and discuss the delivery and timing options with you.

All international orders are sent via Australia Post.


Important note: International shipping may be limited or delayed due to Covid-19 restrictions.




Postage will be calculated at the checkout. According to the destination country you may be offered the following options:

Economy Air

- (

We DO NOT recommend this option as

)The most economical postal option. It does not provide track and trace which we consider vital .

Standard -

Our recommended shipping option!
The same service level as Economy Air includes parcel track and trace which is vital under current Covid-19 freight conditions.




100% No Risk - Money Back Guarantee

First, we have an incredible refund policy: we stand by our products 100%!

If you are not completely satisfied with your order, we will give you a full refund minus shipping- no questions asked.

Just call us on +61 897 555 470 or message us at Moon Haven Natural to let us know and we'll sort it our for you ASAP..

Always seek qualified medical advice regarding your own individual situation

Always seek qualified medical advice regarding your own individual situation
Please note: Information in this article and on the moonhaven.com.au website represents the opinion of the author and as such is not intended to be a substitute for professional medical advice and should not be relied on as health or personal advice.

Always seek the guidance of your doctor or other qualified health professional with any questions you may have regarding your health or a medical condition.

Every home needs these 3 blends
Breathe Easy Essential Oil Blend
An effective blend of potent essential oils formulated to assist those with headaches, sinus and hayfever issues. Excellent for helping to calm the mucous membranes as well as open up airways.


Inner Peace Essential Oil Blend
This beautiful blend of Ylang Ylang and citrus oils (including wonderful Bergamot) is both uplifting and serene. With such an exquisite scent, several of the Moon Haven gals are using Inner Peace as a basis for their personal perfume.


Thieves Essential Oil Blend

A Powerhouse of 6 Essential Oils
Our essential oil version of the 4 Thieves Vinegar used during the Black Plague actually contains 6 incredibly talented essential oils. We formulated this powerhouse blend for its strong anti-bacterial, anti-fungal, anti-viral and immunity boosting properties. more...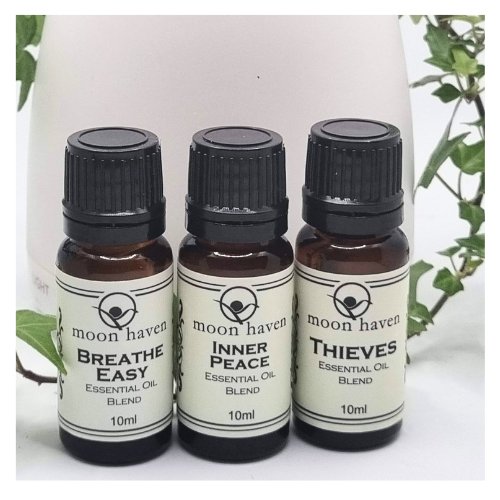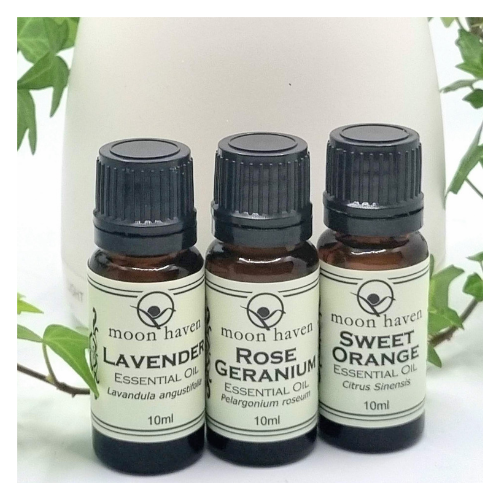 Our 3 Most Popular Essential Oils


Lavender Essential Oil - Lavandula angustifolia
The "Go To" Oil in your Aromatherapy Kit - Relaxation in a bottle
Moon Haven's standard lavender oil (Lavendula angustifolia) is anything but ordinary..
You see we have chosen to offer a beautiful high altitude grown and distilled "Mont Blanc" lavender essential oil as our regular lavender. ...more


Rose Geranium Essential Oil - Pelargoneum graveolens sp. Roseum
Emotionally & Physically Balancing
Perfect for enhancing the feminine, partner pampering and hormone issues. Can be used to help soothe skin issues and hormonal imbalances.


Sweet Orange Essential Oil - Citrus sinensis
Uplifting & Calming
We call sweet orange Sunshine in a Bottle. It's natural uplifting qualities can help with low mood, aggressive behaviour and assists with calming overactive minds. ...more
Made with
Passion

by our

Family

for

Yours

WHY OUR ESSENTIAL OIL PRICES SO REASONABLE?




Every day we're asked "Why are Moon Haven's essential oil prices so reasonable?"

and it's often followed by ..."so does that mean your quality is not as good as XXXX or YYYY brands?"




Nothing could be further from the truth. "Our oils are 100% pure and unadulterated - just as nature intended".




So why ARE our Essential oil prices so reasonable?




WE'RE A SMALL FAMILY BUSINESS

Our marketing costs are minuscule, we don't advertise on a grand scale -

we rely mainly on you and all our moonies to help spread the word about what we do.




ESSENTIAL OILS SHOULD BE AFFORDABLE

Part of our philosophy is that 100% pure, natural, beautiful quality essential oils shouldn't break the bank.

We want you to be able to use your oils every day and not be concerned about the cost. ❤️
Why Our Moonies Love

Home Essentials Starter Pack?
★ ★ ★ ★ ★
"I'm so pleased I discovered moon haven."
"I used to only buy oils from a well known aromatherapy multi level marketing company - I even sold them for a while.
I've found that Moon haven's oils are just as good, if not better and their prices are fantastic. "
- Brianna T Campsie, NSW
★ ★ ★ ★ ★
"They make using oils easy- fact sheets, videos and individual support... amazing!"
I didn't know anything about using essential oils and everything I read was just so confusing.
But Leonie and her team were just brilliant. Their fact sheets and how to videos as well as their answers to questions on the phone have got me using my essential oils every day.
Can't thank you enough ladies.
- Claire F. Melbourne, Vic.
More Moonie Love For

This Pack

We'd love YOUR feedback too!

M
Michele Nightingale
(Padstow, AU)
Very Happy
Fantastic product, fast delivery, awesome customer service, highly recommend
L
Leesa Howard
(Perth, AU)
B
Belle Smith
(Padstow, AU)
Amazing
Love love love all the products from this beautiful place. Order from all the way in NSW because I've never found anything to compare. Super fast delivery! Thank you moon haven team!