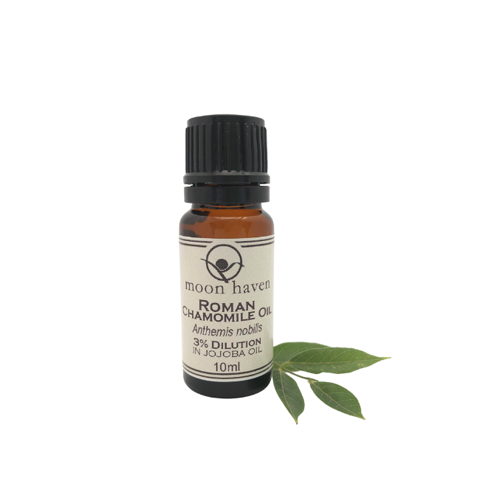 NEW: Roman Chamomile Essential Oil- 3% in Jojoba Oil
REST & RELAXATION IN A BOTTLE
is calming for mind and body
fantastic for helping to deal with stress
may be useful for sleep issues - both falling and staying asleep
a wonderful oil to use to help with anxiety and anger
100% No-Risk Money Back Guarantee
REST & RELAXATION IN A BOTTLE
is calming for mind and body
fantastic for helping to deal with stress
may be useful for sleep issues - both falling and staying asleep
a wonderful oil to use to help with anxiety and anger
Roman Chamomile Essential Oil Monograph

Botanical name: Anthemis nobilis


Common name: Roman Chamomile

Plant part: Flower heads

Extraction method: Steam distilled

Common uses: Roman chamomile has traditionally been used to help calm sensitive skin . It has also been known to help alleviate stress and anxiety as well as assist with sleep issues.

Note: Middle

Strength of aroma: Medium

Aromatic scent: Sweet, warm, apple-like aroma.

Blends well with:


Ylang ylang , Lavender, Patchouli, Clary Sage, Lemon, Bergamot, Neroli , Rose Geranium




This wonderful oil is a must have for every aromatherapy collection.

There is not better oil to assist with anxiety, sleep issues and stress

is calming for mind and body- fantastic for helping to deal with stress
may be useful for sleep issues -both falling and staying asleep

a wonderful oil to use to help with anxiety and anger

Lavender

Patchouli

Clary Sage

Lemon

Bergamot

Neroli

Shipping (within Australia)

Shipping within Australia

.We usually use Auspost's Express Post Service to ensure you receive your order in the fastest timeframe possible




Free Postage & Handling for Orders over $80

All orders that total more than $80 (excluding shipping costs) for delivery within Australia qualify for free postage and handling.





$14.95 Shipping for Orders Less than $80

For all orders totalling less than $80 for delivery within Australia qualify for our flat rate postage fee of $14.95.




Place your orders before 10 am for same day dispatch

Orders received before 10am WA time, Monday-Friday are usually shipped the same day while orders placed after 10 am are usually be shipped the next business day.





We make our products at the moon haven cottage - so sometimes we run out
Of course this is dependent on having everything you've ordered in stock.

If we need to make something to fulfill your order, then we'll give you a call and discuss the delivery and timing options with you.

All international orders are sent via Australia Post.


Important note: International shipping may be limited or delayed due to Covid-19 restrictions.




Postage will be calculated at the checkout. According to the destination country you may be offered the following options:

Economy Air

- (

We DO NOT recommend this option as

)The most economical postal option. It does not provide track and trace which we consider vital .

Standard -

Our recommended shipping option!
The same service level as Economy Air includes parcel track and trace which is vital under current Covid-19 freight conditions.




100% No Risk - Money Back Guarantee

First, we have an incredible refund policy: we stand by our products 100%!

If you are not completely satisfied with your order, we will give you a full refund minus shipping- no questions asked.

Just call us on +61 897 555 470 or message us at Moon Haven Natural to let us know and we'll  sort it our for you ASAP..
Roman Chamomile Essential Oil- 3% in Jojoba Oil
Atr moon haven we are always looking for ways to make aromatherapy as accessible to our moonies as possible.
So when it came to including the most exquisite essential oils we just knew that Roman Chamomile was a must have.
We've long used this pure essential oil in our Deep Sleep and Meditate Pulse Point Potions with great effect.
This oil is wonderful for helping with everything from sensitised skin- think rosacea, calming the anxious mind, to diffusing anger and stress in the work place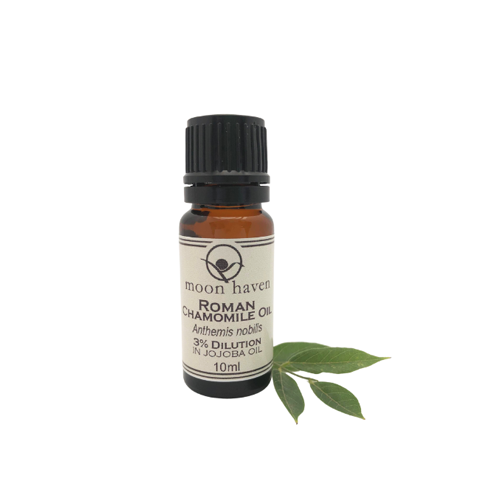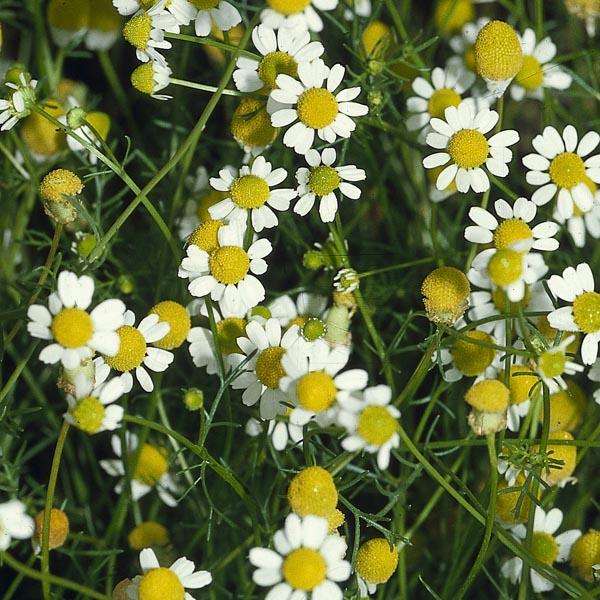 The Roman Chamomile Story

There are a number of exquisite and exotic essential oils that are beyond the purchasing power of so many of our moonies.... and that's just not right!
In their pure, undiluted form these oils can run to several thousands of dollars per kilo.
And while a few drops of pure oil for a very special occasion could be justified, using these oils everyday is out of the reach of most...until now.
Affordable for Everyday Use
By offering essential oils/absolutes like Rose, Sandalwood and Roman Chamomile diluted in pure Jojoba Oil our moonies can experience the beauty and work with these amazing oils on a daily basis.
Made with
Passion

by our

Family

for

Yours

WHY OUR ESSENTIAL OIL PRICES ARE SO REASONABLE?




Every day we're asked "Why are Moon Haven's essential oil prices so reasonable?"

and it's often followed by ..."so does that mean your quality is not as good as XXXX or YYYY brands?"




Nothing could be further from the truth. "Our oils are 100% pure and unadulterated - just as nature intended".




So why ARE our Essential oil prices so reasonable?




WE'RE A SMALL FAMILY BUSINESS

Our marketing costs are minuscule, we don't advertise on a grand scale -

we rely mainly on you and all our moonies to help spread the word about what we do.




ESSENTIAL OILS SHOULD BE AFFORDABLE

Part of our philosophy is that 100% pure, natural, beautiful quality essential oils shouldn't break the bank.

We want you to be able to use your oils every day and not be concerned about the cost. ❤️
Why Our Moonies Love

Moon Haven Essential Oil?
★ ★ ★ ★ ★
"I'm so pleased I discovered moon haven."
"I used to only buy oils from a well known aromatherapy multi level marketing company - I even sold them for a while.
I've found that Moon haven's oils are just as good, if not better and their prices are fantastic. "
- Brianna T Campsie, NSW
★ ★ ★ ★ ★
"They make using oils easy- fact sheets, videos and individual support... amazing!"
I didn't know anything about using essential oils and everything I read was just so confusing.
But Leonie and her team were just brilliant. Their fact sheets and how to videos as well as their answers to questions on the phone have got me using my essential oils every day.
Can't thank you enough ladies.
- Claire F. Melbourne, Vic.
We would love YOUR feedback
Tell us what you think about our new creation